Rachel Sampson is a college freshman from Harlem, New York. She currently attend the University of Alabama at Birmingham with a double pre-professional major in Pre-Nursing and Pre-medicine with a minor in Psychology. Her initiative is Her Circle, which is an educational safe space for girls ages 7-17 that touches self-love, self-care, and self-awareness. It was created in November of 2018 when Birmingham's Maddie Whittsett, 9, committed suicide due to bullying directed towards her ADHD. Knowing what she was going through from personal experience, Rachel decided to use her voice to speak for her and other girls' feelings just like her. The mission of her initiative is to protect the future generations of women, one girl at a time.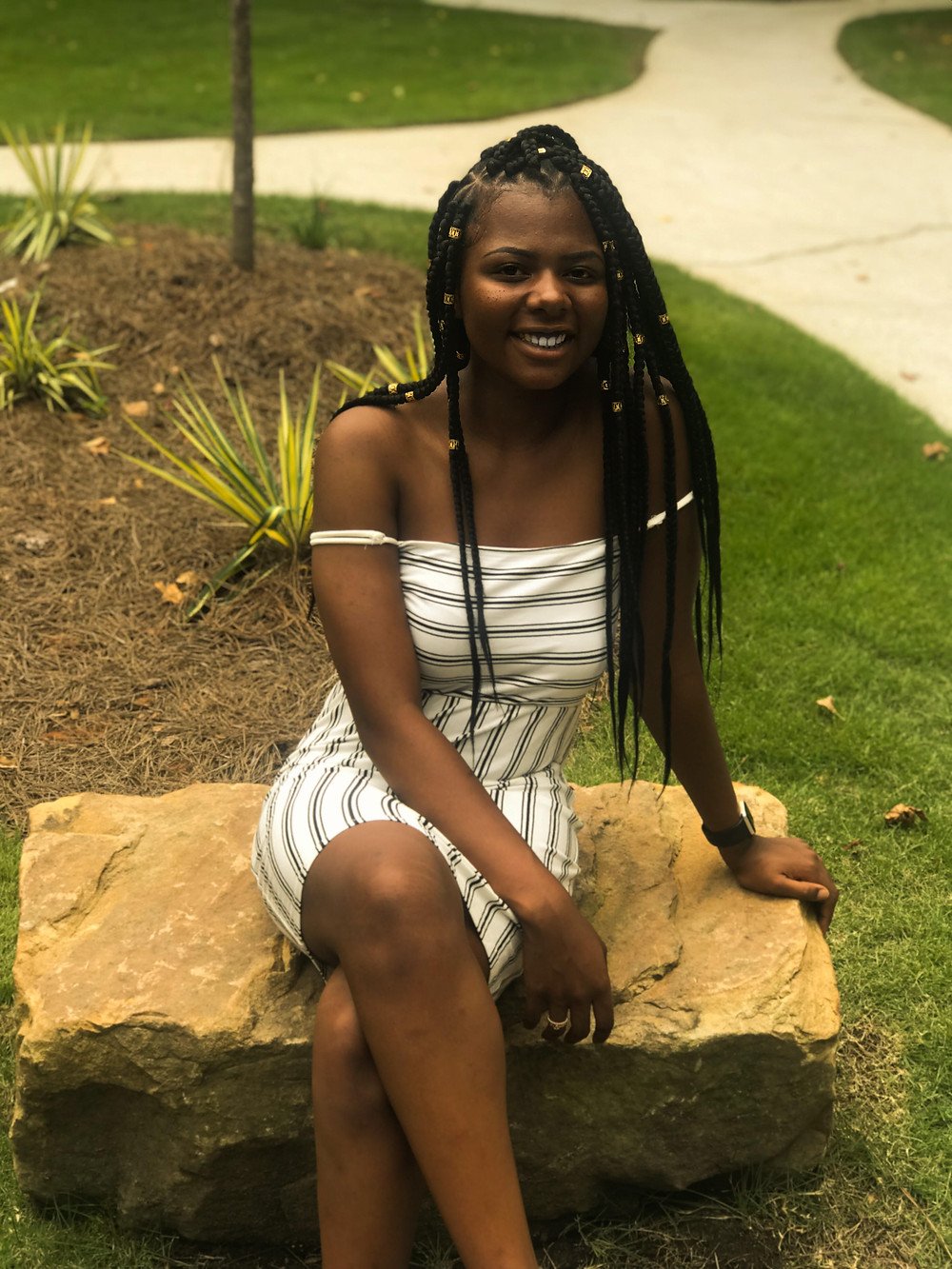 Question 1 : It's awesome that your organization helps spread awareness of mental health problems. What has been the most rewarding part of running Her Circle so far?
The most rewarding part of running Her Circle is knowing that youth from all walks of life are counting on me and my team to use our voices to protect, advocate, and teach them.
It doesn't just stop at girls. I wanted to begin with them because, well, I am one. However, I have garnered so much attention from people in my community that everyone is depending on me. It's scary, but I feel so invigorated and motivated by it. Once I get Her Circle fully established and run with autonomy, I will be creating two other Circles tailored to young men and the LGBTQIA+ spaces in the same approach through mental health.
Question 2 : Do you think being a teenager gives you a different perspective on mental health?
Yes, it does, but the safe space remains the same no matter my age. We all go through similar symptoms and trends in our moods. For example, I have Bipolar 2/Manic Depression. From doing personal research on the topic, I have noticed that I relate to older age groups with my symptoms and my daily experiences.
We all see it as a struggle, but as a teenager, I see it as something I can use for a catalyst for change for others younger than me.
I do not want our future generations to be inflicted by what we go through with our mental illnesses. It isn't something I'd wish on anybody. To be alone whilst going through sadness from depression or heart palpitations from severe social anxiety? It has been really hard at times.
Question 3 : Mental health is a critical issue that needs to be tackled. How can we, as a generation, support each other and spread awareness about it?
As a part of Generation Z, we should acknowledge the people around us that we don't know are actually going through things like depression, anxiety, OCD, etc. People have grown to be very ignorant of the idea that "Hmm, maybe this person has a different story than I do."
Not everyone has the same way of handling things and our generation, or at least those in it who don't know what it's like to live with a mental illness, do not understand that. To support does not involve ignorance of the topic or person to which you are trying to uplift.
That's kind of false advertising when you think about an example. In continuance, going to or hosting events advocating for mental health awareness is how you become informed. Then, this leads to checking on your friends, family members and explaining to those who are ignorant of mental health what you've learned spreads awareness in ripples. It doesn't get any simpler than that.
Question 4 : What do you think are the major problems causing mental health issues right now??
The "root" of many of the major problems causing mental health is overlooking those who have a mental illness and overdiagnosing those who do not have a mental health illness.
I can personally attest to this because I was overlooked for several years, since 2012 when my parents separated. The trends in my behavior were not looked at as serious or mental-health related; my mother thought I had an "attitude" or assumed I just found something to be upset about. From the impulsive anxiety attacks that turned into the uncontrolled rage episodes to the hiding from family and isolating myself from peers, I was losing it.
I was scared to speak up.
This fear came after being overlooked. From wanting to become a psychiatrist and doing my own personal research, I realized I've been suffering Post Traumatic Stress Disorder since my parents' abrupt separation in 2012. This led to constant sadness or days with intense happiness that came off as paranoia, which was the formation of depression.
If someone would have caught me once I developed PTSD, I would not have fallen into this rabbit hole. However, it definitely shaped me into the fierce, outspoken activist I am today. Not even just an activist, the woman I have become is light years ahead of the girl who was trying to kill herself years ago. I'm my own miracle.
Question 5 : On Her Circle's website, there are resources to help loved ones. Could you tell us more about L.A.C.E.S?
Funny as it is, in the moment when creating L.A.C.E.S, I was thinking about shoelaces. Just kidding. I am also a 2018 Herlead fellow and we create our projects using the Vital Voices outline we were presented at the leadership training in New York. It's not necessarily an acronym, but it helped me pick something easy to remember and that's kind of catchy.
L = Learning and Listening
A = Adapting
C = Curiosity
E = Empathy
S = Sympathy
Question 6 : How do you balance school, extracurriculars, and running Her Circle?
Well, I actually gained a lot of free time when transitioning into college this past summer. I decided to do some things here and there on campus, but I love working for other online platforms to gain more experience and education on all the spaces we're missing. As for college itself, being a Nursing/Pre-Medicine major with a minor in Psychology, I have a surprising amount of time to budget towards Her Circle, meeting and hanging out with new friends around campus, or completing assignments ahead of the due dates (highly recommend). I am also a Staff Sergeant in the Army Reserves, to which I work out 3-4 times a week around 5 in the morning. When all is said and done, I come home and take a few hours for self-care and mental recharging.
I found my balance through self-discipline and only involving myself in things I actually want to be a part of. If it wasn't directly contributing to my success or happiness, I chose not to do it. It took me a while to learn to say "no" to things, but since it maintains the intricate balance of my life, it had to be a skill to gain.
Question 7 : What advice do you have for teenagers interested in starting their own nonprofit initiative?
First of all, it DOES NOT have to be something that you have the first-hand experience with like myself. If you see a need for space, create it.
It's like if you walk into a room and notice there's something missing. Let's say there are no chairs in the room, just a table. To really start an initiative, you don't need the chairs. You start at the ground and then work up your project. That's where you fill your chairs as you open your initiative to others. Be free-spirited as well. Expect the reject.
Question 8 : If you could have a superpower, what would you choose?
I would have telepathy and give the underrepresented a voice by speaking on their behalf.
Follow Her Circle on their platforms!
Website: http://www.hercircle.wixsites/nonprofit
Email: Hercircleinitiative@gmail.com
Instagram: @hercircleinitiative (https://www.instagram.com/hercircleinitiative/)
Rachel's handles:
Instagram: @rcsampson01 (https://www.instagram.com/rcsampson01/)
LinkedIn: Rachel Sampson (https://www.linkedin.com/in/rachel-sampson-92b586184/)