Anugraha Ghale is an 18-year-old student born in Kathmandu, Nepal and the head of Gharmai Productions. "Anugraha" is the Nepalese translation for the English word "grace". Gharmai Productions's products target young people specifically because they are the future of the world, and Anugraha wants to help the world by creating good leaders.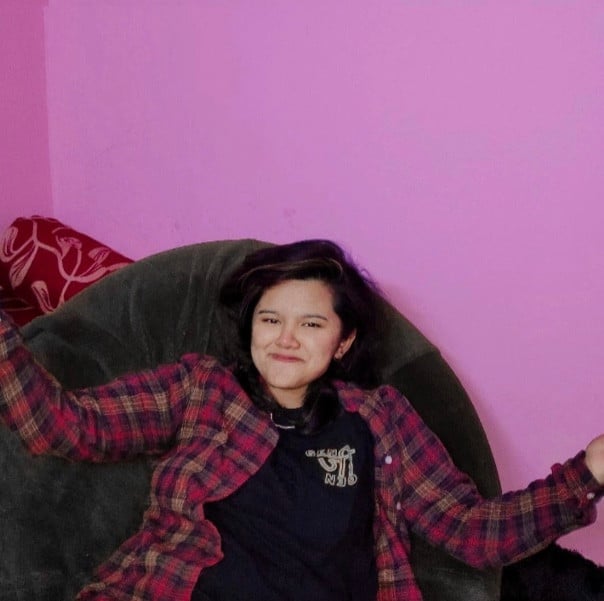 What is your project? When did you start? Why did you start it? How did you start?
I was 12. After successfully failing multiple times academically, I started to question if the regular lifestyle was something I was willing to be a part of and if I was willing to be impressed with handouts. Although, as a 12-year-old, you don't have a lot of authority so I had to study in school. But, I wanted to taste the thrill. I used to collect gag-gifts because it made me happy. So, I started selling my collection to friends and family with the hope that I will share my happiness, receive theirs, and eventually make the world a better place. My goal was to flip one item each month, but I had already visualized the amount of smiles I would be spreading in the coming years. I was able to generate some profit, which I later invested in a ukulele. The website I bought the ukulele from had a $4 discount for new users, so I created around 30 fake Gmail and Facebook accounts in the past 3 years and sold around 35 ukuleles. As of now, my phone number has been banned from their website, but that's alright because I got a new number. They got a new security update, so it's no longer as easy to avail the new customer discount. I was able to generate a considerable amount of profit from the ukulele business in 3 years and I saved all of it and invested it in my current stationery business.
My project is a "mental revolution". Nepal is a country that has had numerous physical protests, which have all failed because only the oppressed speak for themselves and the people in power are numb to their emotion. Mental revolution involves changing the perspective of this society, which in Nepalese context, is patriarchal. This condition is prevailing all over the world, but I have to play my part from where I am. I am trying to encourage youngsters and students to question and think for themselves through thought-provoking artistic merchandise.
How do you collaborate with local Nepal creatives to sell products through your platform?
Gharmai Productions is hosting 12 creativity challenges in 2021. All you have to do is simply enter the challenge and present a simple design with a loud message. Aside from that, creatives are always welcome on board to add to our current product category through submitting project proposals via DM or email.
What I realized after opening this platform was that the art community in Nepal is very closely knit. From making polymer charms to poster prints, every artist in Nepal supports one another.
When we picked one specific creative, she shared our vision and we were able to welcome 3 other creatives. I think as a small business, the creatives trust mouth-to-mouth promotion for collaboration.
What kind of messages do you strive to promote with your artistic merchandise?
Be different. Being different doesn't mean being the cause of a social deviation. To me, social deviation is to unlearn every toxic mentality we might have accidentally come across and start thinking for ourselves. A patriarchal society doesn't just differentiate opportunities based on gender, it also manipulates people to develop a herd mentality and agree to what the people in power say. Being different doesn't mean being someone else but simply being yourself. Deep down, each one of us has a heart so pure that we would never want to hurt anyone but we often galvanize ourselves with ego, jealousy, and hate.
The message we strive to promote boils down to encouraging young people to be different from our elders and ambitious with a feeling of passion and serenity.
What are your responsibilities as the sole head of the organization? How are you able to effectively manage these different functions?
Gharmai Productions is a startup and doesn't have anyone working full time, except myself. I want to create a team of 12 motivated and capable individuals by the end of 2022, who are currently being sourced by their design submissions and project proposals. This means that I have to look after the business while also making sure I get good grades in university.
I have to source the raw material, one of which includes 100 GSM paper, which is very hard and expensive to find in Nepal because most well established local stationery brands use 80 GSM paper since it's more lucrative. But, the vision I have involves redefining substandard product delivery, so I stick to the use of premium paper. After that, I print the paper patterns after trimming down the paper rolls into notebook sizes and assembling everything together to be packaged and delivered. This is just for the goods alone. Apart from this, I also have to handle the client work, queries, and brand collaborations.
The behind-the-scenes work is truly a beautiful headache. But once I turned my labor into passion, my work started to become a hobby.
Since I am also doing my undergraduate program in BBA, I have to be very strict about my schedule and divide my time towards my work, education and personal life wisely. The production process requires one month at the very minimum and I work during semester breaks. Last month, I was able to produce 400 notebooks in 40 days from my home. January was crazy, but I loved the process of working for something that was beyond me and challenging my limits. Everyone has 24 hours in hand, but if you break those hours into minutes and minutes into seconds, you'll end up realizing how much time there is in a moment.
Gharmai Productions aims to provide members of youth, specifically, with opportunities to promote and sell their artistic merchandise. Why are such opportunities so important?
Generation Z is the most politically aware generation, but our self-generated beliefs are being manipulated as we enter the corporate world. Our school curriculum is designed for us to have a stable living condition in good words, but if you change the narrative, you'll find out that we are simply being designed to facilitate the modernized form of slavery. The younger people need to be administered through an environment which would embrace project-based learning while solving real-world problems. Gharmai Productions believes that creating such opportunities for young people will help them realize that their contribution has importance and build the foundation of knowing your value and mission.
What is Gharmai Productions's vision for the future?
Gharmai Productions is planning to branch out all over Nepal, in the coming years, and start doing workshops for young people to change their moral values from the capitalist mindset to more community-friendly. Since our primary focus is stationery items, we will be working with schools to provide students with our products. With thought-provoking covers, the students will learn to think beyond what they're taught and learn new words like "patriarchal society" and "misogyny". They have never heard these words, but have experience with the definition. We are working towards helping these young people have a strong base to identify the true morals that the schooling system here in Nepal lacks. We want the corrupt regime in Nepal to be taken over by the leaders that will be using our products. Our vision is to create the leaders for tomorrow.
What advice do you have for teenagers wanting to start initiatives to uplift their local communities?
This generation has the resources to do things differently, and subsequently change the world. Like those spreading mental health awareness, feeding the hungry, animal rights, going plastic-free, there's always a young person unifying and promoting the voices of the generation. Almost every different individual has the platform to start their own campaigns, such as Etsy and Instagram thrift stores. But the faces are so many and the content delivered is often empty, so how can you stand out?
An internal questions that resonated with me personally were, "I can do so many things, but what am I doing? I can become everybody, but why don't I try becoming somebody?" The initial step you can take is start the change with yourself; uplift yourself, your family, your friends and then the community. Teenagers that want to make a difference need to realize that you cannot accelerate the process and skip onto the next level. Of course you will achieve the crown but at the end of the day, it's about ruling the monarchy instead of risking it for the biscuit.
It all starts with a vision. To me, vision means believing and manifesting in the things you don't have yet. If I am able to believe in myself, I will never be bothered by what other people have to say.
When you're able to identify your position and mission in this world, your initiatives form themselves supported by faith in action. Bottomline? Stick to 3 M's: mindset, manifestation, and motivation.
Follow their socials below!