Shania Ahmed is a 14 year old from Northern California.
She started a small business at the age of 13 during the summer before high school. Originally, Basic Girl Jewelry started off with scrunchies. She started making her own, and to cure her boredom, she created an instagram and posted them up for sale. She received her first sale within the hour. She was super surprised and opened her Etsy the following night. After that first sale, it took a whole month for it to start gaining support. She remembers, one day, she gained 6 sales and She was insanely happy. Eventually, scrunchies were taking too much of her time and with high school and all of the extracurriculars, She took a break during November and December of that year. She reopened her shop at the beginning of 2020, with new products, stickers! She had invested in a few supplies and designs, and immediately started creating. She switched over my focus and couldn't be happier. Her business has exploded since then, she has gotten over 600 sales in less than 3 months which is crazy. Nowadays, 20 orders a day is a new normal.
Where do you get inspiration for the products you sell?
My sticker inspiration came from a few other instagram accounts. Selling scrunchies exposed me to so many other teen small businesses that make other items like necklaces, bracelets, phone cases, and more. Stickers stood out to me because I used them so frequently and everyone loved them. Do you design all of you stickers at home? If so, what does your creative process look like?
Most of my sticker designs are purchased from independent graphic designers/artists. I pay them for commercial use of their designs and produce my stickers. I am not too great at designing, but in the future, I would love to invest in some tools and start learning how to. What can etsy store owners do in order to stand out amongst their competitiors?
Usually, there will be different sellers, selling items very similar to your items, whether its jewelry or stickers. You have to curate your page to the best it can be. I will cover more on that in the next question
What marketing advice do you have for etsy shop owners?
Spend time on your shop. Photograph pictures and make them high quality with good backgrounds. That is the first image they will see and it's really important. Using good tags is also really important towards the visibility of your product and showing up in Etsy search. Use all 13 of them. Tell your story in the about me section, let your customers get to know you. Clearly state your policies, and make your product descriptions as through as possible.
Use Instagram. Instagram is your best tool when it comes to selling items. Post your items and interact with your followers frequently. Let them ask you questions, show some behind the scenes, and establish your credibility by showing your orders.
Use influencers. Contact influencers and send them your product for free and have them review it. This increases your Instagram following and customers a lot. I've had almost 30+ orders from one influencer story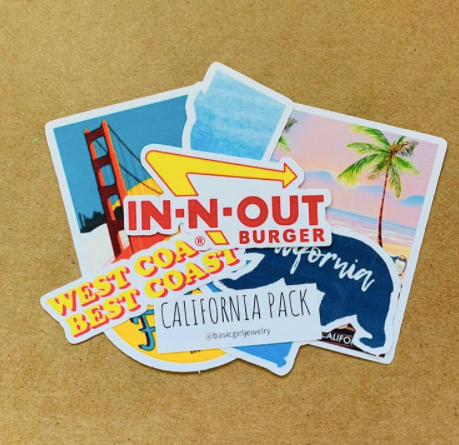 What are the benefits of selling your products on Etsy instead of other platforms? Etsy is a great start point. It's super easy to learn to use and get the hang of and everything is there for you. Etsy provides you with many helpful tools and customers. What advice do you have for other teenagers interested in starting an etsy store? Just do it. I never thought I would have this much success with this at all. I thought I would get zero sales and just give up. This whole journey has taught me so much and has shown me my future passion, a career in business administration. Another thing is, don't be afraid to ask for help.
I thought people wouldn't help me because I was their competitor, but that is so wrong. They are always extremely helpful and kind.
Outside of running Basic Girl Jewelry, what are some other passions and hobbies you have? How do you manage to balance having a business while going to school and engaging in extracurricular activities? I love to dance. I've been dancing since I was 5 years old and it's once of my biggest passions. My favorite style is either jazz or hip-hop. I have so much love for the sport and I will miss competing once I leave for college. Balance was really hard at first, but I eventually got a hang of it.
If it's something you're really passionate about, you will make time for it. I had to sacrifice a lot, but it felt good doing something I loved.
What type of music do you listen to?
Anything you can dance too, especially hip-hop. I am a secret and extremely big fan of Taylor Swift!I can listen to all of her albums on repeat.
Check out Basic Girl Jewelery's Website and Socials! Instagram Etsy Website Store Website