Future Minds Network: Building Companies that Change the World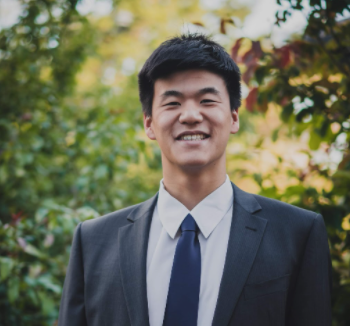 Nathaniel Diong is a Gen-Z educator from Melbourne, Australia and the CEO of Future Minds Network. They run entrepreneurship programs that develop future-ready students. Today, they've helped 10,000s of young people build their own companies, skills and mindset to thrive in the future. Nathaniel is also an international startup mentor, judge and Giant in Residence at Blackbird Ventures, Australia's leading VC firm.
Tell us a little more about when and why you started Future Minds Network
At 10-years-old, I would cry myself to sleep because I felt so helpless to make a difference in a world where thousands died each day. Desperate to help youth realise they could make a difference, I founded Future Minds Network.
Truth be told, when I first started, I had no clue what I was doing. But over the years I realised I didn't need to. The beauty of entrepreneurship is that you learn by doing. Your mission, direction, and company constantly evolve. You pivot or persevere. Regardless of whether you become an entrepreneur or not, you learn invaluable skills, mindset for the future.
So often we hold ourselves back because we think we're not good enough, smart enough or innovative enough to change the world. But the truth is, young people have endless creativity, energy and the resilience to turn one simple idea into reality. All you need to do is try.
| "If you never try, you'll never know and you'll never grow"
You talk about pivot or persevere, did the direction of your company ever change?
100%. I was always passionate about ending world poverty. Over time, I realised that youth unemployment was a big cause of it, and that we were in a global unemployment crisis. Millions would struggle financially, be unsure of careers and lack skills for the future. Scarily, the statistic became my own story. I graduated high school scared, uncertain, and unprepared for the future.
Today, entrepreneurship skills are the No #1 skills demanded by employers. Yet, they're not being taught anywhere. So at Future Minds, we're using entrepreneurship to help students build crucial skills, mindset, and jobs for the future. More than that, we're helping young people build companies that change the world.
Are there any success stories from the people you have worked with?
There are so many! From an international science journal for young researchers, a non-for-profit bridging the education gap in India and America, to a SaaS product accelerator.
One of the most wholesome ones, Letters Against ISO, was started by one of our amazing alumni. When COVID19 hit, aged care residents were no longer able to see their loved ones, and had to eat alone at their tables in silence. With no one to talk to or see, one resident described it like being back in the Holocaust. The young founders of LAISO, decided to send encouragement letters to support the elderly in times of need, and it was a hit! Today, they've sent over 6000 encouragement letters to residents, and have 1200 volunteers world-wide.
Barbara receiving a message from Letters Against ISO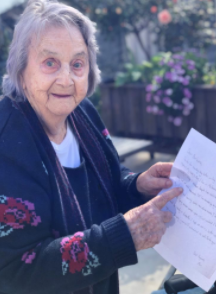 What advice do you have for young people interested in entrepreneurship?
1. Get on the field
If you want to play soccer, you're not told to sit on the bench and just watch. You get on the
field, learn drills, lose games, and train again and again. You learn more in one hour of training than you will in one month of watching from the sidelines. Watching only helps when you know what you're looking for. The same goes with entrepreneurship.
"There's no right time to start a business, but now. Practice makes progress"
2. Customer is royalty
A good product or service always lies in the problem that you're solving. Take your time to understand the problem deeply, have conversations, listen to the pain-points of customers. You might even be able to predict changes in their needs before they even happen.
3. There is no time limit on success
Rye bread takes 2 hours to make. Whole grain takes 4. No one will ask you to bake whole
grain in 2 hours (unless you're on Masterchef). If you do, the bread won't have time to rest
and it won't rise. The same goes for your journey. If you try to rush, the bread won't rise and you'll have nothing to serve. Take your time to make something that matters.
"Be kind to yourself and remember there is still time to succeed"
What are some things you wish you would have known or understood when you were younger?
Your self-worth isn't determined by your success. You are an awesome human being regardless."
How can youth start projects with a social impact?
Fall in love with a problem
Find a problem that is painful and popular. One that needs solving, that many people suffer from and one that you're passionate about. Try to focus small and then big. Instead of providing quality education world-wide, run a workshop encouraging young women into STEM.
Listen often
Have conversations with people who suffer from that. Finding a problem that is close to home or that you suffer from helps give more perspective. There's no such thing as knowing too much about the problem.
Fail often
Give yourself room to fail. If you make mistakes, that means you're learning. You're trying different ideas - some will work, and others won't. This is feedback. But if you're not making any mistakes, you're failing to fail. Either way, you're still failing.
| "Use failure as feedback. Listen, learn, and try something new. "
What advice do you have for investor funding?
In every pitch, you should have a well-defined:
Problem

Solution

Market Opportunity

Track Record

Team
Talk to investors even before you look for funding
Having good relationships with investors before-hand builds trust and credibility. More than that it allows you to connect as a human being and friend first. You're more likely to lend money to someone who you know and trust, than a stranger on the street.
Answer the question "why you?"
Investors want to know their money will get a high ROI (return on investment). Show them traction, numbers but most importantly why you are the right person to build this product/service. Why shouldn't they invest in someone else with the same idea?
Remember that investors fund both people and ideas
Showcase your personality, and resilience as a team, not just your idea. Investors know that even if the idea fails, the founder doesn't. They still have an opportunity to explore, pivot, or persevere. Some investors will invest in the founders themselves even if they don't believe in their product/service.
What other funding options are there?
If you're looking for low risk and equity-free investment try an FFF round (or Friends, Family, and Fools round). This can be done in terms of loans, equity, or simply gifts. Whatever you
choose, make sure to have a formal agreement signed and set in place. Alternatively, you
can try crowdfunding before making the jump to pitching in front of an investor or VC firm.
What is a motto you live by?
Failure is just another word in the dictionary, and it's up to you how you define it. And the next time you see someone you think is successful, remember that they've probably just failed more than you.
Check out Future Minds Network!
Follow Nathaniel here