Mishti Dhawan and Manasa Lingireddy are two juniors from Bellevue, Washington. In the summer after their 7th grade, they both attended a STEM summer camp that developed their passion for STEM. After that summer, they began to search for more STEM opportunities, only to realize that many summer camps and opportunities were extremely expensive. They realized that because many opportunities in their community were so expensive, these opportunities often excluded students from low-income families. In order to break the socio-economic barriers that prevent youth from accessing STEM, Mishti and Manasa started STEMTeen, which is a youth-led initiative that seeks to use STEM for social good by providing free STEM workshops, STEM events, leadership opportunities, and free study resources for youth. STEMTeen also has an online blog where STEM related articles are posted on a monthly basis. STEMTeen seeks to combine advocacy and empowerment with skill development to encourage youth to become problem solvers in their community.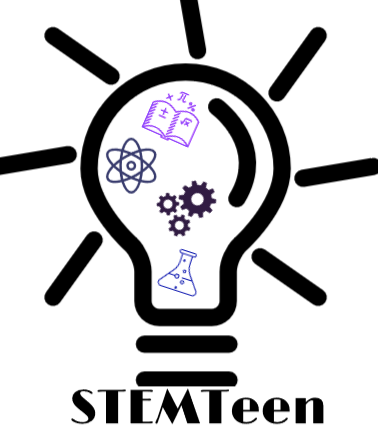 Question 1 : How do you organize a team effectively? What are some qualities of a good team member?
We organize our team through effective and frequent communication and delegation of tasks. We work together and make executive decisions together. More importantly, we ensure that we divide up administrative tasks equally among ourselves. We believe that some key qualities that team members should have are effective communication, dedication, and collaboration skills.
Question 2: On your website it mentions that STEMTeen partners with Girl Genius, Girls Got Steam, and Ground Zero Collective. What is the purpose of partnering with other organizations?
We partnered up with these wonderful organizations in order to work together to empower youth and encourage them to explore their passions whether they are interested in STEM, art, or any other field.
At the end of the day, we all strive to help create a generation of future changemakers.
Furthermore, partnering up with these organizations has allowed us to reach a wider audience and leave a greater impact on youth.
Question 3 : What is STEMTeen's proudest moment?
Our proudest moment was our realization that we wanted STEMTeen workshops to pair STEM skills with problems in our community to raise awareness and develop problem solving skills. We realized that we wanted to organize workshops that focused on using STEM for social good. For example, through our Sustainable Science workshop we got the opportunity to teach about climate change and lead various DIY projects that teach youth how to combat it.
We hope to plan more workshops and events in the future that highlight the problems in our communities and empower youth to combat them.
Question 4 : Can you explain the process of creating a workshop to us? What has been your favorite workshops so far?
STEMTeen hosts workshops on a monthly basis which means our team has to be constantly planning for upcoming workshops. The first step in the process is deciding what theme our workshop is going to be. In the past we have chosen themes like innovation and environmental science. Generally, we aim to use our workshops as a platform to teach youth about problems prevalent in our community. From there, we decide which activities and ice-breakers we'll be leading. We also book our venue and begin to advertise with flyers that our Advertising Committee makes. Throughout this entire process, we're always communicating with other team members, making sure that they have a chance to share their opinions and wonderful ideas.
Our favorite workshop by far was the environmental science workshop we hosted in August. We did a lot of fun sustainable science activities like turning old t-shirts into grocery bags and making used plastic bottles into plant holders. We also had a guest speaker from Climate Strike talk to us about the harms of climate change and how we can stop it. It was a great way for STEMTeen to connect STEM to real world problems while also inspiring youth to take action.
Question 5: Through this whole process of starting STEMTeen, what have been the biggest lessons that both of you have learned?
Through this process of starting STEMTeen, we've learned a lot about how to reach out to organizations for partnerships and how to expand our initiative by incorporating more opportunities for youth.
The key lesson is to be patient with progress and embrace failure.
For instance, for our first few workshops, we didn't have a great turnout. However, we persisted and reflected on what we could do better to reach more people. Now, our turnout for workshops has slowly been increasing.
Question 6: What advice would you give to other teenagers interested in starting their own initiatives?
Starting an initiative might seem daunting at first but it as an invaluable experience to have. Not only do you get to work with other inspiring and empowering people like yourself, but you get to stir change in your community. To set up your own initiative, you should have a very clear idea of what problem you want to solve and how you want to solve it. These brainstorming sessions are incredibly important in making sure that you are prepared for the challenges that come with setting up an initiative. For STEMTeen, we met up at a local library and spent hours outlining what our initiative would look like. After you streamline your initiative, find some people who might be interested in helping you out and get to work on making that dream come true!
Question 7: Outside of STEMTeen, what other hobbies and interests do you guys have?
Manasa: I am extremely passionate about programming and AI. I am a part of my school's Speech and Debate team as well as HOSA. Some of my other interests include playing badminton, hiking and binge watching shows on Netflix.
Mishti: I have a wide variety of interests! I find value in youth activism which is why I co-lead the Washington chapter of Next Generation Politics, hoping to encourage youth to find and use their voices. Additionally, I am interested in pursuing a career in Bioengineering and social entrepreneurship, focusing mainly on global health and educational outreach. I work with Women in STEM as an ambassador and participate in HOSA as well. Some of my other interests include reading books, running, and practicing yoga!
Question 8: Got any music recommendations?
I Miss Myself - NOTD and HRVY
No One Compares To You - Jack & Jack
Better - Khalid
Beautiful people - Khalid and Ed Sheeran
Follow STEMTeen on their platforms!
Website: stemteen.org
Instagram: @stemteen ( https://www.instagram.com/stemteen )