After more than 4 years of contribution, activities and actions, ChangemakerZ's life comes to an end.
We want to thank anyone that has supported ChangemakerZ and everyone that was part of this family. This decision grieves us deeply, but this is for the best.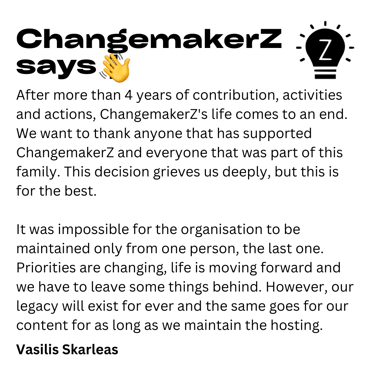 It was impossible for the organisation to be maintained only from one person, the last one.
Priorities are changing, life is moving forward and we have to leave some things behind. However, our legacy will exist forever and the same goes for our content, for as long as we maintain the hosting.
We would love to thank you that you for all your support. ChangemakerZ won't continue to publish any new content articles or interviews. Our website and social media accounts will stay available as a legacy of what ChangemakerZ was including its contribution to the world, especially during COVID-19 pandemic.
You may be aware about the GenZers to rise! Podcast. GenZers to rise! Podcast was ChangemakerZ's very own podcast show. With the termination of ChangemakerZ actions, the GenZers to rise! Podcast show
is now acquired from the media producer Vasilis Skarleas.The show will continue to publish new content under its new identity. Don't forget to continue giving your love and supporting the show, as well as its app "ChangemakerZ".
Thank you very much!
Best regards,
ChangemakerZ